home of the Great British pub sign
pub signs – free delivery in the UK
Order an original, hand-painted 3ft x 4ft pub sign from eyebright and receive FREE UK DELIVERY. For previous projects and further information click here.
Nick Hallard and eyebright traditional inn signs
NEW customer testimonies section – click here
In June 2000, accomplished artist Nick Hallard began eyebright murals to meet requests for hand painted murals for homes and businesses, from two-storey high corporate murals to the art oftrompe l'oeil . Soon eyebright grew to deliver quality hand painted original artwork of all types for customers all over the UK, including canvas commissions.
In 2001 Nick Hallard taught himself to signwrite, and now combines this with his classical art training to supply many different establishments with their hand-crafted inn signs as eyebright traditional inn signs. These are the classic swinging pub signs, with an image and sign written text on each side. One of the earliest forms of marketing there is, the tradition of pub signs dates back over 600 years in England.
eyebright also supplies other areas of small to medium business marketing – building and painting pub chalkboards; cost-effective web design;bespoke CD Rom design;book and newspaper illustrations;as well as budget press coverage management. For details of other services offered by Nick Hallard, please refer to the 'and also…' pages. Nick Hallard can visit your pub, home or business premises to provide a free no-obligation quote, and answer any questions you may have.
Using the eyebright murals pocketsite
The buttons on the title bar (inn signsetc.) will take you to six different sections, each with a menu screen made up of thumbnails. These thumbnails take you to various sub-sections. Navigate through each section or subsection using the round, blue buttons at the top left of the screen. With these buttons you can also return home, jump departments or e-mail Nick Hallard direct at eyebright. Hover over any object for more information. Click here to read customer testimonies.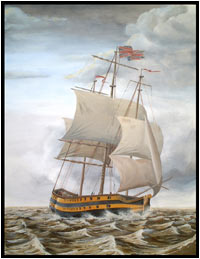 HAND MADE PUB SIGNS -(above) A hand painted pub sign for the Ship Inn in Southwick, West Sussex
Acrylic 3ft x 4ft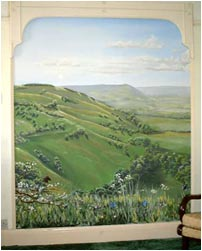 HAND PAINTED MURALS – (above) A trompe l'oeil study of Devil's Dyke, East Sussex, for a private residence
Acrylic 5ft x 6.5ft
AND ALSO… PR, Marketing, Logo Design, Web Design, Sign Writing, Illustrations, Canvas Artworks, Cartoons, Book Covers, Album Covers, Drum Skins and more!
LINKS:
Further resources on the history of the Great British pub sign can be found at the Inn Sign Society website.
Home bar construction plans to build a functional wet bar in your house can be found at Home Bar Plans Online.