the pocketsite – web design for £299!
Marketing expertise usually comes at a hefty price, and effective web design costs even more still. When Nick Hallard needed a website for eyebright murals he was – like most small to medium sized businesses – shocked at the price quoted by all the agencies he contacted. So, using up-to-date marketing know-how, and an excellent eye for today's design needs, Nick Hallard taught himself to design web pages and created this site. Now he offers his skills to handle all your web marketing requirements. Call 01903 213064 or 07730 911330 or alternatively email Nick Hallard by clicking here.
Check out www.fishmagnet.co.uk , Worthing's Royal Oak pub pocketsite, and Adur Athletic FC's pocketsite for examples of Nick Hallard's website design.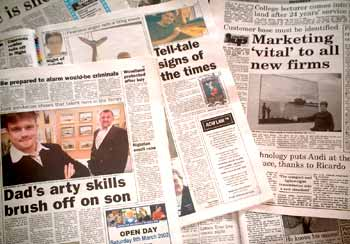 chalkboards for pubs, clubs and cafés
Nick Hallard's artistic contributions to inn signs all over Britain has meant that his ability to also design, build and decorate chalkboards has always been useful. With marketing costs rising – even for local pubs – eyebright can build a chalkboard to your specifications and create the artwork in weather proof chalk for the same price as a new chalkboard from a pub marketing company. Quick updates, spot acrylic painting, pub and club logos, and artwork to a corporate style all benefit eyebright's chalkboard customers, from high capacity nightclubs to small village pubs.
So popular is Nick Hallard's style, that within twelve months of starting eyebright, he was supplying boards and artwork to over half of the 60 pubs in Worthing that outsourced their chalkboard work. If you are a publican and currently let your bar staff decorate your boards, give eyebright a call – it often costs less to get in a professional than you may think!

New in 2004, for the publican who really wants attention, eyebright proudly presented… The Behemoth, a gargantuan, leviathan structure measuring 7 feet in height and a whopping 4 feet in width. It's an A-board, and can be completely signwritten, or left as a chalkboard for hundreds of daily specials. Built, weatherproofed, signwritten and delivered, The Behemoth starts at just £500 (and that's Nick Hallard at 5ft 10in standing next to it). Please bear in mind where you'll put it, as it weighs over 60kg and has a 20sq ft. footprint! This one was glossed, signwritten with 128 words, painted with four acrylic artworks and two 'Daily Specials' blackboard sections then shipped off to the Horseshoe Inn in Offord D'Arcy, Cambridgeshire.
(top left) Eastbourne's Cafe Prague is just one of the many pubs to have benefitted from an eyebright chalkboard
(left) The Behemoth, a ridiculously large A-board, measuring 7ft x 4ft with a 20sq ft footprint and weighing in at 60kg! Not for the faint hearted…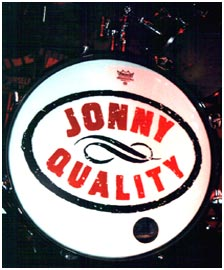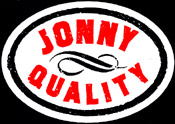 cartoons and illustrations for books, magazines and newspapers
Nick Hallard's capacity to work in practically every medium, in any style imaginable, has been of use to many publications since eyebright started. The image on the right was commissioned within three days of going to press, for a local UK newspaper, and illustrates the image many of the town's shopkeepers have of the ideal tourist who visits (note the lack of shopping bags). The image on the left was created for a Doctor Who spin-off book, and is one of a series of character realisations. Artwork can be supplied on disk or photographic paper.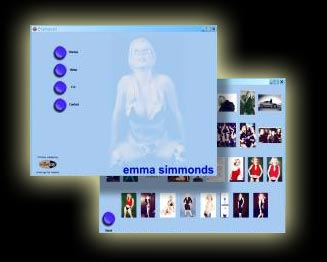 eyebright extras to suit your business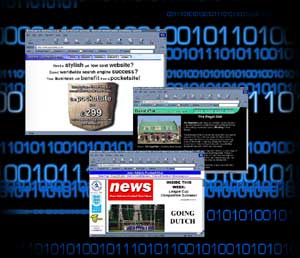 all the press coverage you want!
eyebright benefits as a company from Nick Hallard's experience after university as a Press Officer (see right). For a
similar price to a paid-for advertisement in your local paper, Nick Hallard can compose, mail, manage and follow up press releases on your behalf on a local or national level. Coverage is never guaranteed, but to date eyebright has secured half a colour, right-hand page in the Daily Telegraph, and has appeared countless times in local newspapers across the UK, and even had his own column. To the reader, stories are always the paper's own voice, and carry much more weight than a paid-for advertisment. Tie-ins, special offers, charitable causes, corporate events, personal achievements and businesses of all sizes benefit every day from press coverage that costs them no more than a stamp and a phone call. What are you waiting for?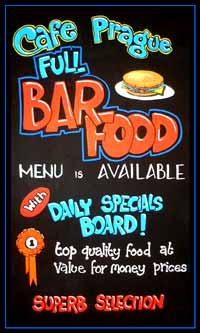 band marketing resources
If you're promoting your own group, getting the marketing right is not easy.  Consistency and quality of marketing messages positively reinforce a band's image, help to promote the band, and present a united, polished front to audience members and talent scouts alike. eyebright offers cost effective sign writing and hand painted acrylic artwork to the huge range of new bands making an impact along the South Coast of the UK. Brighton's Jonny Quality asked Nick Hallard to recreate their band logo (below left)onto their outer bass drumskin (left).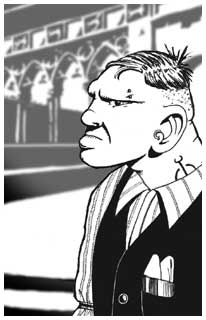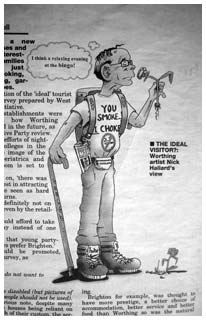 tailor-made CD Rom design
eyebright can also create bespoke CD Roms for you or your company. The best way to think of a CD Rom is as a website with all the content you want, with navigatable buttons, Internet and email links, images, music and moving video – on a CD. Direct postal mail campaigns mean your CD Rom lands on the desk of the person you want it to, and they don't have to be hooked up to the net! Excellent for actors, wedding invitations, corporate presentations, event brochures, artist's portfolios, end of year reports, marketing materials for builders and architects – the list is endless!
(left) The 2001 'Men and Motors' TV channel event winner Emma Simmonds demonstrates her skills on her tailor-made CD Rom portfolio. Nick Hallard
subcontracted eyebright to a London-based company for this project