Great British pub signs…
…now with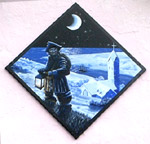 A 'traditional British pub' feel is very often lacking from many of the UK's licensed premises, but an original, hand-painted pictorial pub sign from eyebright will restore a sense of history and individualism to a pub, tapping into a national tradition which dates back 600 years.
All eyebright signs are hand-painted in UV light-proof, weather-proof, fade resistant acrylic paint, and sign written in exterior grade gloss paint. eyebright signs will last and last, and provide a superior alternative to the cheap looking vinyl applications which cost no less than an original, hand painted eyebright sign but somehow manage to look cheaper all the same.
Any artwork or logo can be incorporated, and the customer is consulted on content, colour and style at every stage. Nick Hallard accepts rough ideas to complete briefs, allowing the customer to take advantage of his keen design skills.
It is difficult to supply a price for a pictorial pub sign as they are all unique, but a double-sided hand painted 3ft x 4ft pub sign will most often be supplied for as little as £400. Smaller sizes, simpler images and materials sourced by the customer would bring a price down further. Reclamation of existing signs is considered but not always cost effective.
free delivery anywhere in the UK
Delivery is usually made through a trusted courier, local to eyebright. New for 2005, a standard 3ft x 4ft, 20kg sign will be delivered to anywhere in the UK FREE OF CHARGE including insurance up to £1000. eyebright does not install inn signs, but will recommend a reputable sign installation specialist local to eyebright if needed.
the history of the Great British pub sign
A pub's pictorial sign is a true British institution. The pictorial inn sign dates back to 1393 when King Richard II passed legislation making it compulsory for alehouses to exhibit a painted sign. This was because landlords had to distinguish between pubs for the purposes of census taking, but most people couldn't read a single word.

The whole history of Britain is above our heads on pub signs all across the UK, as they seem to have reflected the state of the nation over the course of 600 years. Before the reformation, religious themes were the order of the day, but when Henry VIII clashed with the Catholics, pub names started to crop up with the words 'Crown' or 'King' in them. Naturally the UK saw pub names such as 'The Winston Churchill', or 'The Battle of Britain' appearing, but as the national spirit has been changed with the passing of time, we sadly seem to have broken from tradition, and pub names such as 'The Alibi' can now be seen.
However, in the past five years of business, Nick Hallard of eyebright has seen pubs begin to look toward their traditional roots, and request not only a change back to their original pub name, but also information about the origins of their original pub name, in order to make the image on their new sign much more historically accurate. In fact, it is these establishments that are beginning to stand out proudly from the crowd, as public and publicans alike shy away from the experiences to be found in the licensed premises of multinational corporations. A recent CAMRA (Campaign for Real Ale) survey found that only 12% of those who visit pubs prefer a town centre themed pub, whereas 84% of those who visit pubs prefer a country pub or community local. On a point of losing culturally significant sites forever, of the 26 pubs a month that are closing in Britain, 20 will be demolished or converted into housing.
For further resources on the history of the Great British pub sign go to the Inn Sign Society website.
For further information on saving your local pub see CAMRA's Community Pubs Foundation website.